A Thai Christian family has generously provided a room on the second floor of their house! This house is also the meeting place for church on Sunday afternoons. The family makes pork and rice and sells it in front of their house, as well. Here are some pictures of my new room.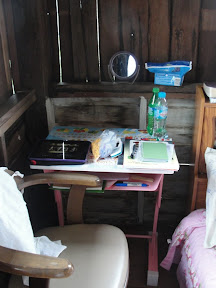 Next, the view from my windows.
As I write this, it is Sunday night and I start my first day of school in the morning! I'm excited - even thought the past few days have been fun I will finally begin my real reason for being here. Check out my schedule. (To my teacher friends you might find this unbelievable!)
One more thing, the woman I am staying with is so very nice and thoughtful! I know she will be a good friend soon. (This is for Grandma!) The little girl - Bai Thoe - is so cute and I love the way she says my name! She calls me Adjun Katie which means teacher. She is 3 and I am really going to enjoy her!
Posted using BlogPress from my iPad
Location:Khao Phanom, Krabi, Thailand