I arrived in Krabi yesterday and have had a busy day today! First, we went to visit my new school.
Oh, I forgot to mention breakfast! I thought about you Wyndie!
Then we visited the house where I'll be staying. My room has the headboard for a bed but nothing else! Yes, a bed!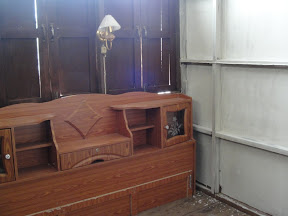 I will be staying with a Thai family. This little girl is Bai Toie. She is adorable but was playing shy. The next picture is in front of my house where the dad cooks noodles and people stop by to buy them.
We also visited two other schools where two guys from Texas will be working. They are about 15 minutes from my school.
We went to lunch at the market and then bought some fruit. I'll have to do a whole post on Thai fruit at some point.
After dinner I got to call mom and grandma (yay!) and then I did some recordings for Richard's radio show! My voice will be heard all over Krabi! Make sure to tune in to 100.7 True Love!
Love you all!
- Posted using BlogPress from my iPad