7:00 - Wake up to my iPad alarm - "Aftermath" by Hillsong. Crawl out from under the mosquito net and fold it up, fold up my sheet and blanket. Go downstairs to the restroom and wash my face. The whole restroom thing is getting a whole lot easier and less of an adventure, praise God! Get dressed - every day I have to wear a skirt or dress except on Wednesday, when I can wear pants! I found out that Thai teachers only wear dresses when they are pregnant, which really makes me feel better because people keep asking me if I'm pregnant (I wear dresses a lot!) Put my hair in a ponytail because why try to look cute when I'll be sweating in a matter of minutes? :)
7:40 - Go to school. I get a ride with my house mom - Meow. I ride on the back of her motorcycle. Bai-Thoe, her daughter, sits in front of her! This is exciting because since I wear a dress or skirt, I have to sit sideways! It is an adventure.
8:00 - Walk through lots of students to get to my building. There are 3 buildings on campus. Find my desk in the English department. Take my iPad out and check email and facebook. Love getting emails and carefully read each one! Stand when the Thai Anthem is played throughout the building. I can actually just about sing it to you after all this time!
8am - 3pm - Teach! My days vary from 1 class to 5. Sometimes the days go by very slow and sometimes I am so busy they pass by quickly! Students are constantly walking by my desk, saying hello! I try to chat with the Thai teachers when they aren't too busy.
Classes- each class has 30-40 students. I am teaching 10-12th grade. The period is about 50 minutes long. Some classes are very interested and hang on to every word, and other classes sleep, talk, or do other homework. My lessons so far have been about asking and answering questions, July 4th, and introductions.
Lunch - I walk to the canteen (cafeteria) and decide on my lunch. It will always be rice (OF COURSE!) with either chicken, eggs, or pork. Sometimes a combination! I buy a bottle of water and walk back to the office. The teachers all eat together and sometimes share their food. I have tasted some pretty interesting things! Today I had yellow rice and friend chicken. It was really good!
About 3:00 - head home. There isn't a set time I have to stay until, so I usually finish up my classes, hang out for a bit, and then walk home. It is about a kilometer long walk. It isn't too long but it is always very hot! I'm happy for the exercise though! Sometimes I ask a teacher for a ride on her motorcycle if they are leaving at the same time.
Afternoon - this varies. Here are some of the things I have done in the afternoon: read (I've read 4 novels so far and am now reading Pride and Prejudice), do my Bible study (Beth Moore's Breaking Free - LOVE IT), watch ER on the computer (my dad burned lots of episodes for me), sleep, go get my hair washed (a luxury that I absolutely love), go to 7-11 for drinks, etc. By the way, I will from this point here on have a deep and intense love for 7-11. Not only do they have Pepsi Max (Diet Pepsi), but it is air conditioned! I have spent many a minute perusing the items in there while I really just try to cool off! I can't forget to talk about Bai-Thoe! Many afternoons we share our snack and watch tv or play on my iPad. She is such a fun and cute friend to have around. Yesterday she walked up to my room carrying a bowl of chicken for us to share!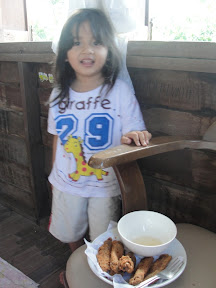 Evening - around 7 we usually eat dinner. Meow usually fixes a couple of different dishes to be served over rice. I have loved every one of her dinners ! We eat on the floor of her living room - Thai style. Sometimes we go out to eat as well. There is also a night market on certain nights that is fun to go to and walk around.
8-10 - I read some more, talk to Meow and the neighbors. Usually I talk to Grandma almost every night! This is such a nice thing for me to not get homesick! I also talk to mom about twice a week and I've talked to Kelly twice now. Before bed, I take a bath. Now, this is not what Americans think of a bath! There is a tank of water in the bathroom. You take a plastic bowl, dip it in the water, and splash it on you. Do this several times, and you're pretty clean!
10:00 - go to sleep!
Thanks for reading about my day! I may come back and add more as I think of things!
Location:Khao Phanom,Thailand